VPN in Algeria
Censorship and surveillance for internet users in Algeria
Algeria is a large country in northern Africa, in fact it's the 10th largest country in the world. It borders the Mediterranean Sea in the north, though most of its interior is the Sahara Desert. It has a population of nearly 40 million people, and some estimate that just under half of the population has access to the internet. Most internet users in Algeria are getting online with WiFi from public hotspots. In-home internet is relatively rare. Safety is paramount with public hotspots, since accessing public WiFi is the easiest target for cyber threats. The larger concern in Algeria is the significant censorship. A law from the 1990s makes internet service providers (ISPs) take any necessary steps to "ensure constant surveillance." The goal is to prevent access to content that is antithetical to "public order and morality." In the early 2000s journalists reported that it would take up to 48 hours to receive their emails. Efforts to watch and censor the internet increased in the wake of terrorist attacks in April 2007. Security forces raided cafes and started checking the internet history of users after the attacks. A year later they increased these efforts with the goal of preventing terrorists from communicating or promoting online. Today, the government requires internet cafes to collect names and ID numbers of all customers and report it to the police, along with any suspicious activity.
Using a VPN in Algeria to promote privacy, access content
Due to the severe censorship, there is very little privacy for citizens using the internet in Algeria. Technology can't improve the politics, but it can help the average person with workarounds. VPNs, short for 'virtual private networks', are vital for internet users in Algeria. Censorship is often location-based, which the government can track through a user's IP. However, VPNs assign an IP address from a different country. This allows users to bypass content filters the government may have in place, providing universal access to worldwide content. Another important benefit of good VPNs is that they encrypt data. The censoring and surveillance happen both pre-technology and post-technology (for instance, the internet café owner watching a user's activities.) Using a VPN that encrypts data makes it significantly harder for others to access recent search history and communications. Data encryption also decreases the likelihood of hacking and identity theft from unknown predators.
Hotspot Shield – the best VPN in Algeria
Use Hotspot Shield VPN to ensure your privacy and safety for all internet activities in Algeria. An industry leader, Hotspot Shield VPN has users in every country, totaling more than 650 million users worldwide. Primary benefits of Hotspot Shield VPN include:
Protecting your privacy and identity with anonymous browsing
Encrypting your personal information so you can surf the internet without risk
Accessing universal content beyond government censorship and surveillance
VPN on your smartphone, saving you money on phone charges
Forget you're using a VPN with our simple, easy interface
Choose from free or paid plans when you download Hotspot Shield, the best VPN in Algeria.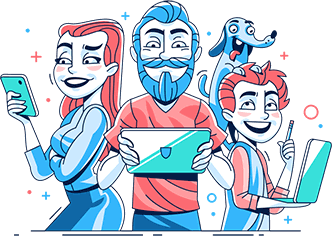 Download Hotspot Shield VPN. It's Free!
Join over 650 million users already enjoying absolute Internet Freedom around the world by downloading Hotspot Shield VPN.
We don't store or share your IP address